Your bride is ready to walk down that aisle!;)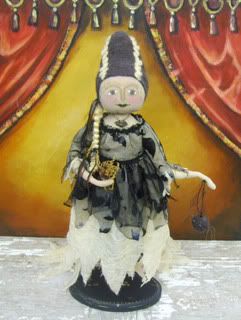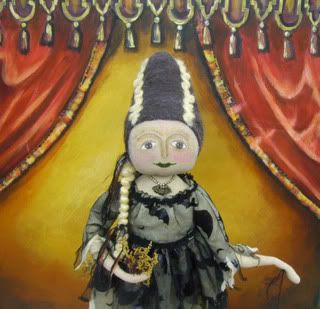 I had SO much fun this past week,creating this dollie!She is full of little added details,her hand~made Pearl Bat necklace,her little spider friend~so many fun things!She goes up for auction,this evening at 8pm on
eBay
,I hope you will visit her auction!
Also,this past week has been SO much fun in TDIPT land!We had our Fall group swap~it was my first,with them~it has been hilarious!Everybody going stir crazy,waiting on their packages!
I was SO blessed,to receive a box from Lynn of
2Stitchin'
!She sent me the most wonderful box of goodies!!!I have been on Cloud9 all weekend!She sent me a basket with a wonderful candle,chocolates,precious Vintage Halloween notecards,a grapevine pumpkin,Sweet Annie broom,and an antique book by Nathaniel Hawthorne!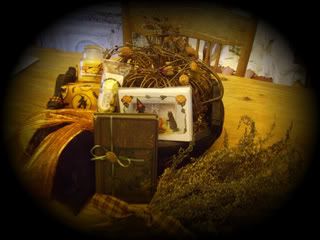 ...but the VERY BEST,most treasured thing that she sent,was a GORGEOUS hand~stitched witch that she made for me,in a wonderful,distressed black frame!!!I am so lucky to receive one of her coveted stitcheries!!!THANK YOU LYNN!!!