Tonight's the Night!The EHAG Emporium updates for the 31st of July!Click
HERE
to visit,and view all of the fabulous works of art for sale.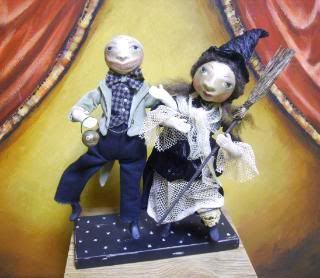 I am offering "Samantha Witch&Melvin Moon Man".Oh how Melvin would long for Samantha to wisk him away on her broom,every Halloween night,when she would fly past his lonely home on the moon!Finally,one Halloween,Samantha noticed Melvin,standing all alone,on his dusty,cratered home and quickly landed and asked if he'd like to join her for some trick~or~treating!"YES!" Melvin cried,and hopped on her broom!
This piece depicts Samantha&Melvin skipping along,having the time of their lives,on Halloween night!I have sculpted their heads from Paperclay,and their bodies are made from Muslin,with wire and wood armatures.Each doll measures roughly 12 inches tall.They are securely mounted to a wooden base.Entire piece measures approximately 14 inches tall by 11 inches wide.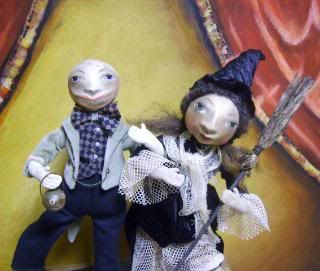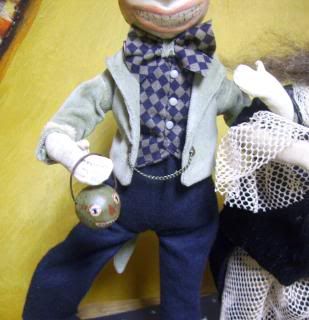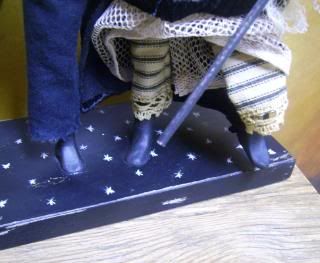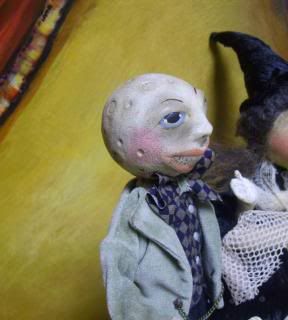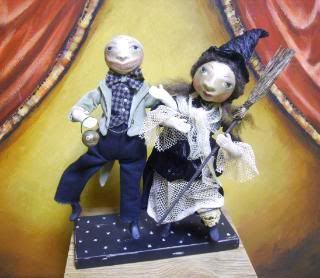 Thank you SO very much,for stopping by!Price for this set is $225,which includes Priority Shipping with Insurance,to the Continental U.S. only,please.~*Thank You!*~
Email Me To Purchase